Pad Thai is a savory stir fried noodles with a bit of sweet and sour taste, which makes it one of the best know Thai food. It is also on of the easiest Thai food to make if you have the right ingredients as in Thailand it is considered as one of the fast food. I've seen many Pad Thai recipes out there that, with not offense, are just not right (especially the ones putting vinegar or Sriracha). Just to say non of the true Thia recipes put Sriracha as an ingredient and only use as a condiment. Although, I like Sriracha om food, putting them as a ingredient in Thai cuisine just doesn't make me feel anywhere close to home.
I've decided to share this authentic Pad Thai recipe to show you how easy it is to make Pad Thai. I make this when I was in Thailand and I know that some of the ingredients can be very hard to find. You can always substitute or subtracts some of the ingredients but for the sauce I would recommend trying to find all the products required in this recipe. I have linked the sauce ingredients, just click on the ingredients name. I've also make a vegan version of this Pad Thai.
Servings: 1-2
Prep time: 40 minutes
Ingredients
Sauce
2 tbsp Tamarind paste
1 tbsp Palm sugar
1 tbsp Fish sauce
a pinch of salt
Main Ingredients
150g Rice noodles
1 Egg
100g. Firm Tofu
1 tbsp chopped Preserved turnip
3-4 raw King prawns (prefer shell-on)
2 tbsp Dried shrimps
1 cup Bean sprouts
10g. Chives
1 tbsp Vegetable oil
Condiments
Bean sprouts
2 tbsp crushed Peanuts
1/2 Lime
Ground chili (optional)
Banana blossoms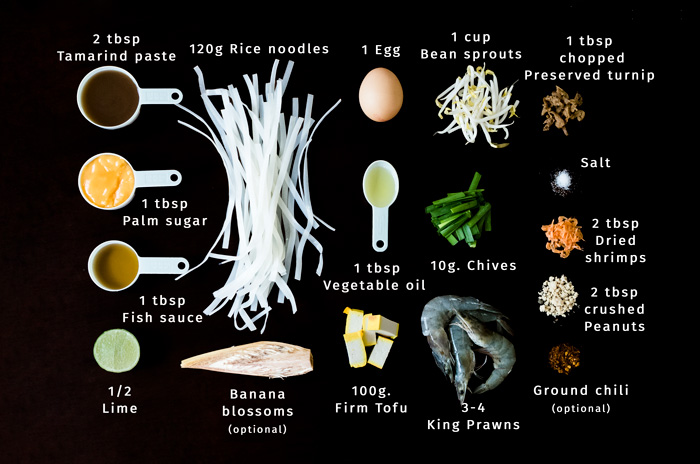 Directions
Mix all the sauce ingredients in the bowl. Cut and prepare all the ingredients.

In a frying pan, boil roughly a glass of water, throw in king prawns and add a pinch of salt, stir until they turn orange (should only takes few minutes). Take out the prawns and throw away the water.

Warm up the same frying pan, put oil and turn to medium heat. Add tofu, stir until golden brown. Add preserved turnips, dried shrimps and beans sprouts, stir until bean sprouts turn mostly translucent.

Add the sauce mixture, give a stir and throw in the noodles right away. Stir until all the ingredients are mixed.

Add some water if the noodles look too dry. Stir until the noodles turn mostly translucent. Push the noodle to on side of the pan, add an egg on the other half of the pan. Scramble the egg when it starts to cook.

When the egg is fully cooked, roughly stir in all the ingredients together. Add chives, give it a stir.

Tips
Pad Thai is usually served with raw bean sprouts, crushed peanuts (a must!), lime, ground chili, banana blossoms and sometimes chives. It is not required but t will enhance the taste overall.
Video