Last few weeks I went to a Greek restaurant near by my apartment, it was the fist time I've tried Greek restaurant. I tried one of the significant Greek dish "Moussaka" (also quite a common dish in Eastern European countries) and it was very taste full. Despite the lasagna like appearance, the taste and ingredients are completely different as the layers are made of potatoes and eggplants fill with layers of tasteful sauces. In this recipe, I has alter the representation of the traditional way of layering and fit the layers in individual eggplant (I found it less messy). Although, this recipes is vegan which will not give you the strong taste of meat like in traditional Moussaka, this recipe taste just as great.
Serving: 2
Prep time : 45 - 55 mins
Ingredients
Eggplants and Potato
2 medium to large Eggplants
1 medium Potato
a pinch of Thyme
a pinch of pepper
1/2 tsp Salt
Olive oil to sprinkle
Lentils Sauce
1 tbsp Olive oil
1 clove of Garlic
1/2 medium Red onion
2/3 cup cooked Lentils
1/3 cup Canned diced tomatoes
1 tbsp Tomato paste
1/2 tsp Paprika powder
1/2 tsp ground Cinnamon
1/2 tsp Dry oregano
1 Bay leaf
1 tsp Salt
Bechamel Sauce
1/3 cup All-purpose flour
1/4 cup Butter
1/2 cup Almond milk
a pinch of ground Cardamom
a pinch of Salt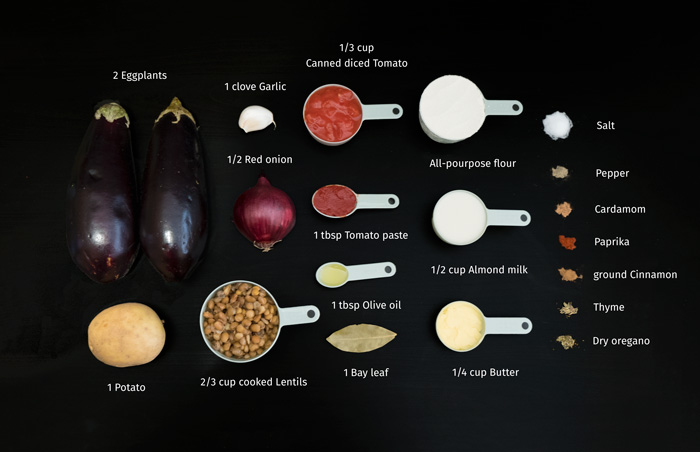 Directions
Eggplants and Potato
Preheat the oven at 160C. Cut the top of the eggplant and slice out 1/4 of the side out. Use the knife to cut out the flash of an eggplant and leave around 2 cm edge (can use spoon to scoop out the flesh).

Peel the potato and slice (the thinner the better).

Put eggplant on a baking tray and arrange slice of potatoes lining the bottom and the side of an eggplant.

Season the eggplants and potato with salt, thyme and olive oil. Bake for 15 - 17 minutes.

Lentils Sauce
Meanwhile, Chop a clove of garlic.

Chop red onion.

Set a pan on a medium heat, add 1 tbsp of olive oil and chopped garlic, stir until garlic turns golden brown.

Add chopped red onion, tomato pate, diced tomatoes, salt, pepper, dried oregano, paprika and ground cinnamon. Mix well until the onion turns translucent.

Add bay leave and cooked lentils, mix well and let simmer for few minutes. Turn off the hob and take the bay leaf out and set the sauce aside.

Bechamel Sauce
Set a pot on medium heat, add the butter. When the butter has melted, add flour and mix until the mixture form a dough.

After the dough is formed, add almond milk and stir until the mixture turn creamy. Add ground cardamom and salt, give a stir.

Put lentils sauce for first layer 2/3 of the eggplant. Cover lentils sauce with a layer Bechamel sauce, bake for 12-14 mins at 160C. Let it cool down after bake before serve.

Tips
Put the lentil last to prevent over cook the lentils and maintain the texture.
Video