This recipes is super healthy, required very less effort, cheap and fulfilling. Couscous usually takes only 5 minutes to cook when put in boil water which is very suitable for a busy lifestyle. I often make this recipe and keep for a whole week as lunch. In this recipe, the couscous is served with quick pickling zucchini, balancing the taste of tomatoes and spices with subtle sourness of the pickle. This couscous recipe is also a great pair with fish or other kinds of meat will do as well.
Serving: 4
Prep time: 30 min
Ingredients
2 medium Zucchini
1 Red bell pepper (other color will do as well, just my personal preference)
1 1/4 cup Couscous
1/2 Red onion
180g Cherry tomatoes (around 12-13 tomatoes)
1 clove of Garlic
1 tbsp Tomato paste
1 tbsp Olive oil
3 tsp Salt
1/4 tsp ground Cumin
1/4 tsp Paprika
Pinch of ground Black pepper
2 cups of Water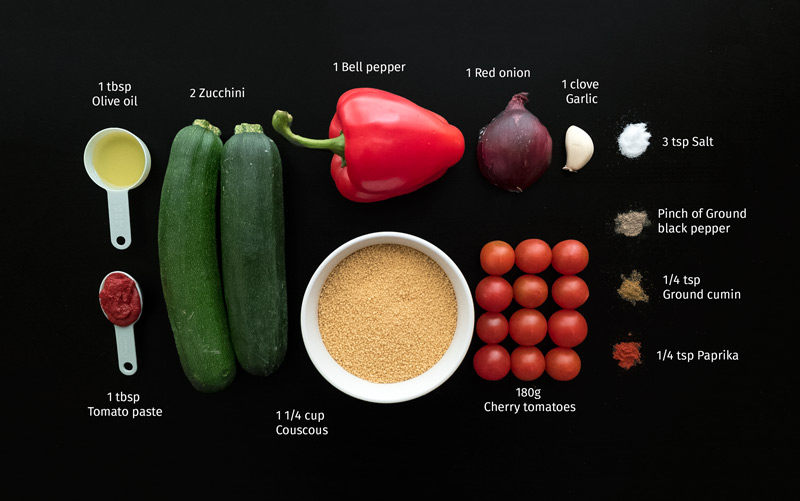 Direction
Couscous Part
Mince a clove of garlic.

Chop the red onion.

Cut the the top and the bottom of the zucchini out, slice the zucchini crosswise and cut the piece in four. Keep half of a zucchini for making pickles.

Cut the top of the red bell pepper out, remove the seeds and the ribs, cut into stripes and then cubes.

Cut cherry tomatoes in half.

Set the pot to medium heat and put 1 tbsp of olive oil.

When the oil starts to get warm, add garlic, onion and tomato paste stir until the onion is half way cooked.

Add zucchini, tomatoes, salt, pepper and spices. Stir until everything is mixed.

Add couscous and water. Give a stir and let simmer.

When the water is boiled, turn off the hob, then cover the pot with the lid and let simmer for another 10 minutes then serve.

Quick Zucchini Pickles
Slice the zucchini crosswise.
In a glass container, squeeze 2 lemons (or limes). Add salt and sugar to the lemon water.
Add the zucchini and mix well.
Add brine or drinking water to coverall of the zucchini surface. Cover with clear plastic wrap and keep in the fridge for an hour (up to 2 days).
Tips
If the couscous sticks at the bottom of the pot, add 1/2 cup of water, stir and make sure the hob is off.
Preview