Have you ever had one dish that will always makes you feel like home every time you taste it? Nam Prik Ong is that dish for me. It is one of the iconic food in the northern Thailand (where I was from). The word 'Nam Prik' means chili dip or paste in Thai and Ong is the name of a person who invented the dip. The dip has its own dominant taste from tomato and palm sugar that makes it different from other Thai chili dip. If you have never tried Nam Prik Ong before, you can expect the dip to be sweet and salty. In some modern recipes, tamarind sauce is used to add a hint of sourness to the dip (or you can use lime). However, I made this recipe as close as what the dip tasted like in my memory.
Traditionally, every Thai chili paste (Nam Prik) is paired with fresh vegetables or boiled vegetables. So you can imagine how healthy this recipe is. I love having Nam Prik Ong as a savory mid day snack, light dinner or something to munch in front of TV. It is one of the way to get lots of veggies in my system as well. To make this recipe vegan, I substitute minced pork with crumbled tofu and exclude shrimp paste. I thought the taste would be quite different from the traditional dip, but surprisingly it's not. The good thing about this chili paste is that it can be kept in the fridge for quite a while. I'm not sure how long because it's never been left til then. It is also a very good meal to pack for lunch with fresh vegetables or salad.
Ingredients
200g. firm Tofu
8-10 Shallots
2 tbsp Salted soybean
15g. Dry chili
4 Tomatoes
2 Coriander roots
3-4 cloves Garlic
1 tsp Coarse salt
3 tsp Palm sugar
1 tsp Vegetable oil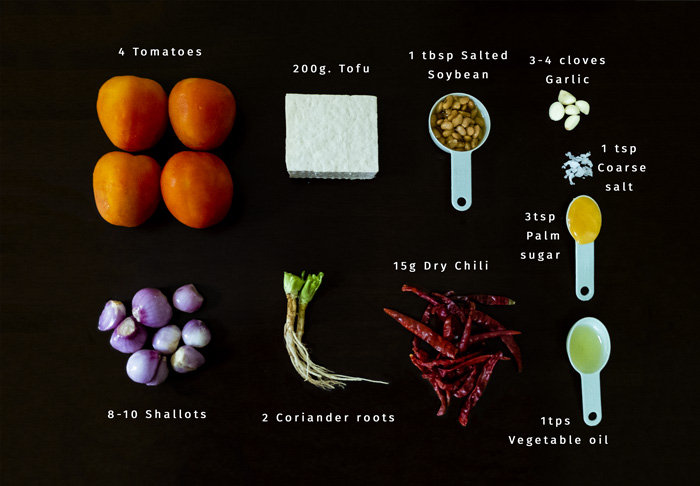 Directions
Roast dry chili, shallots, garlics and coriander roots in a sauce pan or wok on a medium heat. Keep roasting until the fragrance is released.

Transfer the roasted herbs from the pan directly to the mortar. Add salted soybean and coarse salt. Mash the ingredients using pestle. You can also use food processor in this step which will safe a lot of time and give smoother texture. Pestle and mortar is a traditional way to mash chili paste.

Cut tomatoes and crumble the tofu in medium chunk ( not too small as they will be mash again with pestle and mortar).

Mash tomatoes using mortar and pestle to extract the juice out. In this step, I strongly recommend not to use food processor and tomato chunks and skin is the unique parts of this dip. If you don't have pestle and mortar, you can use fork to mash the tomatoes.

Add the crumbled tofu and gently mix with the mashed tomatoes (leave some big chunks of tofu). Don't mash the tofu too much that the texture turns smooth as the tofu should make similar to minced pork.

Warm up vegetable oil over medium-high heat. When the oil is hot, add chili paste and stir fry until the fragrance gets strong. (Beware, it can make you cough a lot!).

Add tomatoes and tofu mixtures and stir-fry until it starts to boil. Add a bit of water (15-20 ml ) of water if the dip seems to dry.

Add palm sugar to give the dip flavor. Let it simmer for 7-10 minutes. Serve the dip warm to cold with fresh vegetables.

Tips
Soy sauce is another way to flavor up the dip. You can use it instead of coarse salt.
It is important to roast the herbs first as this will bring out the flavor and extend the
Video