Imagine waking up in the morning knowing that you will have two of the best sweets for breakfast! This recipe combines two of my favorite sweets together. These muffins can be a really great motivation to wake up. I actually tried to make a vegan version of Tesco's Oreo Doughut, however, I only have a muffin tray which makes it really hard to form a donut shape. If you have a donut mold pan, give this recipe a try in donut shape :)
Ingredients
1 cup Flour
1/2 cup Cocoa powder
1/2 cup Brown sugar
1/2 cup melted Vegan butter
1 Banana
1/2 cup Almond milk
1/2 tsp Salt
1/2 tsp Baking powder
1/2 tsp Baking soda
1/2 tsp White vinegar
150g. White chocolate
1/2 pack of Oreos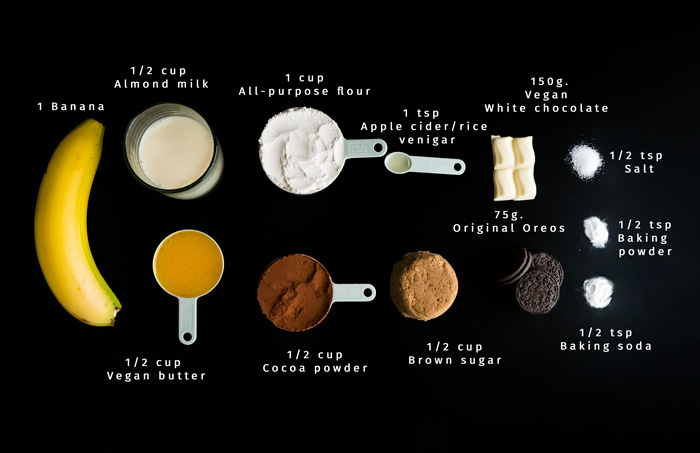 Directions
Heat the oven at 175°C. Peel and mash a banana in a bowl until smooth (can use blender for better result).

Add almond milk, melted butter, white vinegar, brown sugar and salt, stir until the ingredients are well mixed.

Sift together the flour, cocoa powder, baking soda and baking powder in a bowl of wet ingredients. Mix until there is no flour pocket left, don't overmix the muffin as the texture will turn out dense and rubbery.

Thoroughly grease the muffin tray and equally fill the batter in the muffin cups (around 2/3 - 3/4 of each muffin cup). Bake for 15-20 minutes (You can insert toothpick in the middle of a muffin to check if it's cooked. If the toothpick comes out clean, your muffin is done.)

While the muffin is baking, melt the white chocolate in a heat proof bowl over a pot boiling water. Crush Oreos into fine crumbs, set a side in one separate bowl.

Remove the muffin from the oven when done. Allow the muffin to cool down before dipping half of the muffin (top part) into the melted white chocolate and crushed Oreos at the end.

Video